The Inn
About Blackberry Inn
The Blackberry Inn is beautiful, in-town Victorian bed and breakfast located in the heart of Camden, Maine. Built in 1849, this classic, Italianate style "Painted Lady" is set on nearly an acre of land with an extensive perennial and herb garden and within easy walking distance to the village restaurants, shops, galleries and the schooner filled harbor.
The inn itself also has an impressive history. The original property was built in 1849 as a private home by Henry Knight, the first president of the Camden National Bank and one of the founders of the Knox Woolen Mill. The home was later inherited by his daughter, Elizabeth March Knight, Camden High School principal, who influenced by her European travels, further embellished the home with its current-day, beautifully etched tin ceilings and elaborate plaster moldings. She was married to prominent Camden attorney, Job Herrick Montgomery. NOTE: The Salon is actually the original bedroom of Mr. Knight and Lizzy's Room was the daughter's room.
In 1957, the property was purchased by Portland public relations firm partners, Janet Hutchinson and Emeline Paige. Together they ran it as a bed and breakfast and art gallery called the Broadlawn Inn and Art Gallery. The PR duo made a name for both themselves and the inn when they conducted the public relations campaign for the 1957 premiere of "Peyton Place," a major film, shot in Camden, starring film greats, Lana Turner and Hope Lange and Westside Story's Russ Tamblin. The film adaptation was based on the best-seller novel about the more sordid side of life in a seemingly, sleepy small New England town. The inn also had the privilege of hosting the film's cast party.
Although not a member of the cast, Hollywood screen star legend, Bette Davis was invited and also attended the event. Davis, a family friend of Hutchison, later became a frequent guest at the inn. When staying at the inn, she had a favorite room. This room has since been named "Bette Davis" in her honor. The inn was sold in 1969 and returned to private ownership.
In 1986, the Inn was purchased by a local Camden area couple. The inn, while under the ownership, was featured as the only Maine property in the book, The Daughters of Painted Ladies: America's Resplendent Victorians.
In 1998, Jim and Cyndi Ostrowski, purchased the inn and in 2003, purchased the property next door and renamed the two combined, Inns at Blackberry Common. During their 20 year stint as innkeepers, the couple has truly set the bar with regards to gracious hospitality and commitment to quality.
The inn has welcomed its new keepers, Bob and Cat Hobson, with open arms. Bob, a native of England and Catherine, a Texas native, will work to keep this stately Victorian lady alive, healthy and happy and her guests comfortable and well cared for.
We welcome you and hope you find this grand home as magical as we do.
The Gardens
Have a wander down the garden path
Vibrant tulips. Impressive Hollyhocks. Ripe blackberries. Sweet, scented herbs. Our gardens are magical. They offer beauty, bounty and sustenance.
Rumor has it (started by us, of course) that the sweet scent of the lavender has been known beckon guests and visitors alike to wander down her fragrant paths, whispering "Come. Sit. Be still." Our gardens are a wonderful place to experience the turning of the Wheel of the Year, the cycle Mother Nature follows to usher in the changing seasons. So pull up a chair and watch the show while enjoying a nice hot cup of tea (a "cupper") or an ice cold flavored lemonade.
Spring, a time of new growth and new beginnings, comes alive with a bold exuberance starting with an impressive wave of brightly colored tulips. Sweetly scented lilacs follow closely behind as the rest of the garden comes to life.
Summer celebrates the fullness of the growing season. Hollyhocks and delphiniums are in full bloom while the colorful lilies and sunflowers turn to meet the sun. You also see your hosts in the early morning harvesting fresh herbs for the day's breakfast.
Our blackberry patch comes alive in late summer, bursting with lush fruit. We use this versatile fruit in garnishes, in compotes and English scones. Blackberry lemonade anyone?
Fall, a time of change and transformation, is illustrated in the garden's golden hue while asters and mums bring another colorful splash. Fiery autumn colors continue into October as we prepare for new plantings and a final harvest. You'll also find this is the time to bring nature indoors with creating lovely wreaths, dream catchers and potpourri sachets.
It's true, winters in Maine can be "interesting" to say the least, but nonetheless beautiful and eventful. Winter is the time where the earth sleeps replenishing itself for the springtime to come as the wheel continues to turn.
Meet Your Innkeepers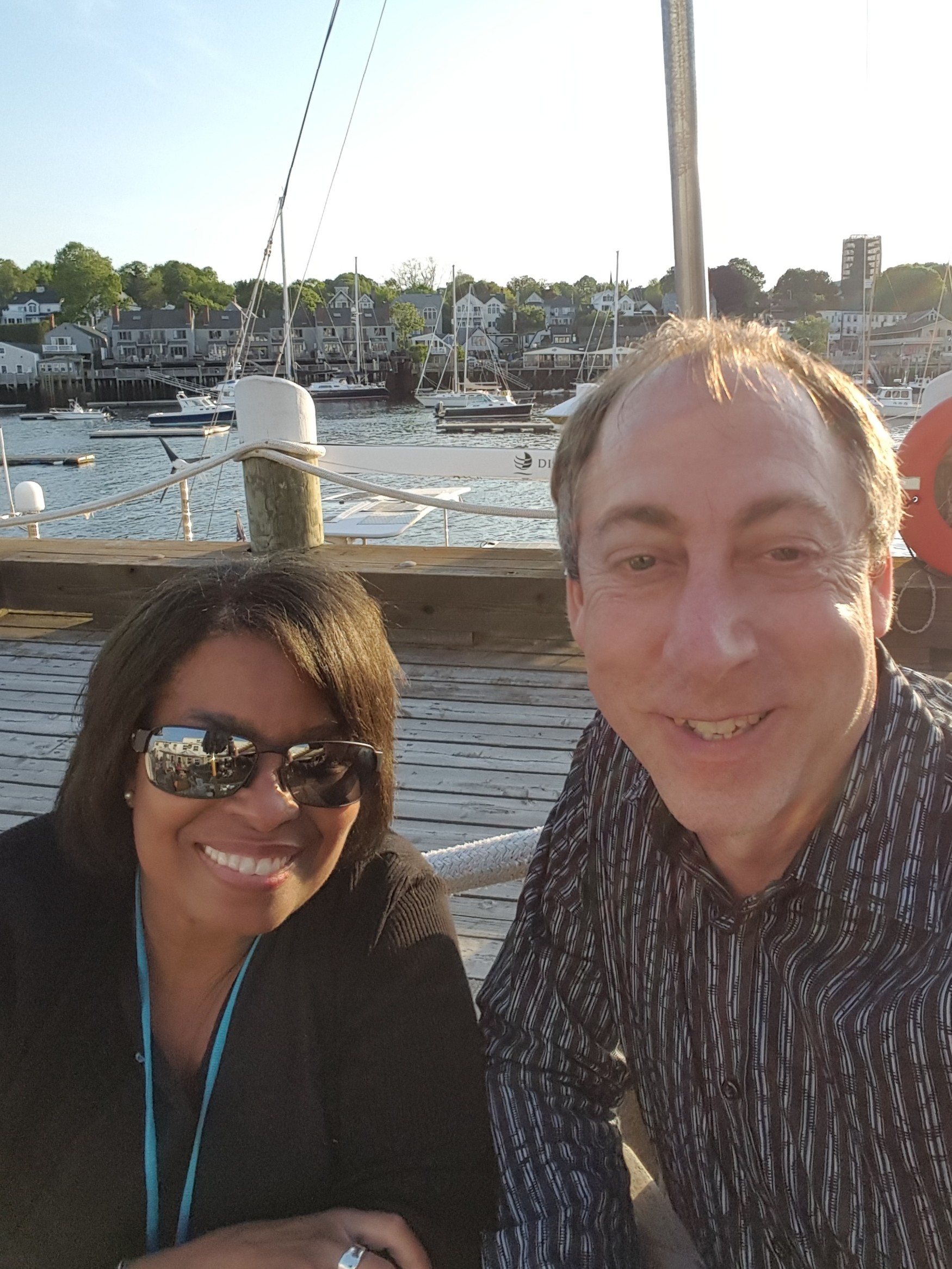 Bob and Cat Hobson have been enjoying staying at bed and breakfasts for well over a decade and always vowed that one day they'd own and operate one. In 2016, they mutually decided that it was time to make a career shift and go after what they really wanted and that inn keeping would be the perfect exodus from the corporate environment.
Cat quit her job and began exploring what it takes to be an innkeeper and how to transition into the lifestyle they wanted. After taking an Aspiring Innkeeper course, they knew this was the right path for them. They traveled throughout the United States in search of the perfect place to set down roots. They finally settled on the beautiful town of Camden and the lovely Blackberry Inn.
Bob is a native of Countesthorpe, a small English village in county of Leicestershire. He spent the last twenty years working in the offshore oil and gas industry his most recent position as a Engineering Project Manager. Before being transferred to Houston in 2003, he worked seven years in Monaco.
Don't be fooled by his mild manner. Bob has many surprises up his sleeve. Not only can he fix a garbage disposal or sprinkler system hose leak in record time, he is also an accomplished woodworker. He is also a great cook (Traditional Full English Breakfast anyone?), baker and sausage maker!
Cat, a native of Houston, Texas, spent most of her professional career focusing in the area of marketing communications. Before saying goodbye to the corporate world, she served as a Manager of Marketing Strategies and Programs at a big four accounting firm.
A Certified Wedding Planner, Catherine gained hands-on experience in the industry through interning under a certified wedding and event planner in Houston. She also was selected to intern under celebrated wedding and event planner, David Tutera for Your Wedding Experience event in Houston in June 2016. She plans on bringing those skills to the inn later in the year by offering wedding and event planning services. She also loves to cook (Look out for her breakfast tacos and smoked salmon eggs benedict!), plan and make lists, much to her husband, Bob's dismay.