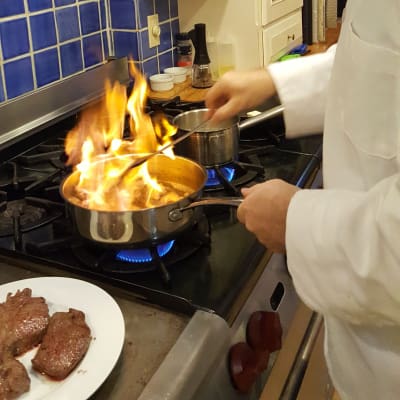 Dinner
Blackberry Inn offering Friday evening dinner service
With the chilly months setting in, Blackberry Inn will be offering guests an alternative to venturing out on cold, wintry, Friday nights. Starting in November, the inn will offer Friday evening dinner service. Internationally themed menus will include delicious, hearty meals from around the world including France, Great Britain, Greece and North Africa.
Date: Friday, November 3, 2017 through Friday, May 25, 2018
Dinner Sit-Down Service Start Time: 6 pm
Price: $45 per person
Sample set, three-course menus are shown below:
France
Starter: French Onion Soup
Main: Coq Au Vin (French braised chicken dish with mushrooms and bacon)
Dessert: Creme' Caramel

Greece
Starter: Greek Salad
Main: Spanakopita
Dessert: Baklava
United Kingdom
Starter: Rocket (Arugula) with Scottish Cheddar and Lemon Balsamic Vinaigrette
Main: Bangers and Mash
Dessert: Spotted Dick (Steamed Sponge cake served with custard)
Also starting in November, don't forget to also take advantage of our Stay & Save Special - Get 10% off when you book two nights!
To learn more or book reservations, please call 207-236-6060 or 800-388-6000.